Volcano Awareness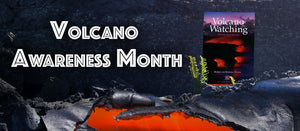 January is Volcano Awareness Month on Hawaiʻi Island. Want to brush up on your volcano smarts? Pick up our publication "Volcano Watching"! 
Get a glimpse into the mysterious inner workings of volcanoes. This HPPA exclusive book reveals the world of a volcano observatory, its dedicated staff, and the techniques they use to monitor volcanic activity.
Learn about the volcanoes of Hawaiʻi as well as volcanoes around the universe.
Volcano Awareness