Health for All
Health for All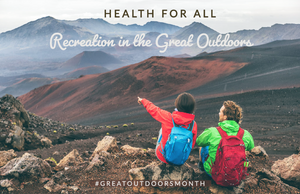 June is the perfect month to reintroduce yourself to national parks and the health benefits they offer. Hike, birdwatch, swim, camp, daydream, photograph — the parks hold limitless hours of joy and creativity for you. The hike essentials we showcase here are just part of the national parks curated collection we carry for you.
Hawaiʻi Volcanoes National Park Trail Guides
Trail guides are one of the best ways to understand the context of the place you are exploring. Why is this a trail? Who or what was here before? What happened here? What grows here? Is this lava? Where did it come from? Pick up these Hawaiʻi Volcanoes National Park trail guides to start to discover the story all around you.

Donʻt forget your outdoor essentials!
Binoculars
Whether you plan to be viewing flowing lava or native birds, it always helps to keep a light pair of binoculars around. Our national park partners in Hawaiʻi and American Samoa have no shortage of natural wonders, so pick these up before you go!
Hat
No one wants a burned forehead. This Flexfit high-quality ball cap has a velcro adjustable backing for a perfect fit for daily wear. It is water-repellent, breathable, and is unstructured, meaning it snugs nicely to your head.   
Sun Shirt
The pure-tech fabric of this sun shirt keeps you protected and dry, and you can swim in it too. The protection it offers your skin against harmful UV rays is proven to last, providing superior performance on adventurous summer days.
Water Bottle
This stainless vacuum bottle keeps liquids hot or cold all day. Fits easily in your backpack and holds enough to keep you warmed up or cooled off while adventuring. The bottle is etched (nothing to peel or fade) and uniquely designed to represent the wonders of Haleakalā National Park on Maui.
Handy guides for portable information!
These beautiful, portable reference guides are designed to provide the reader with the perfect balance of information and functionality.